eCompendium Online Platform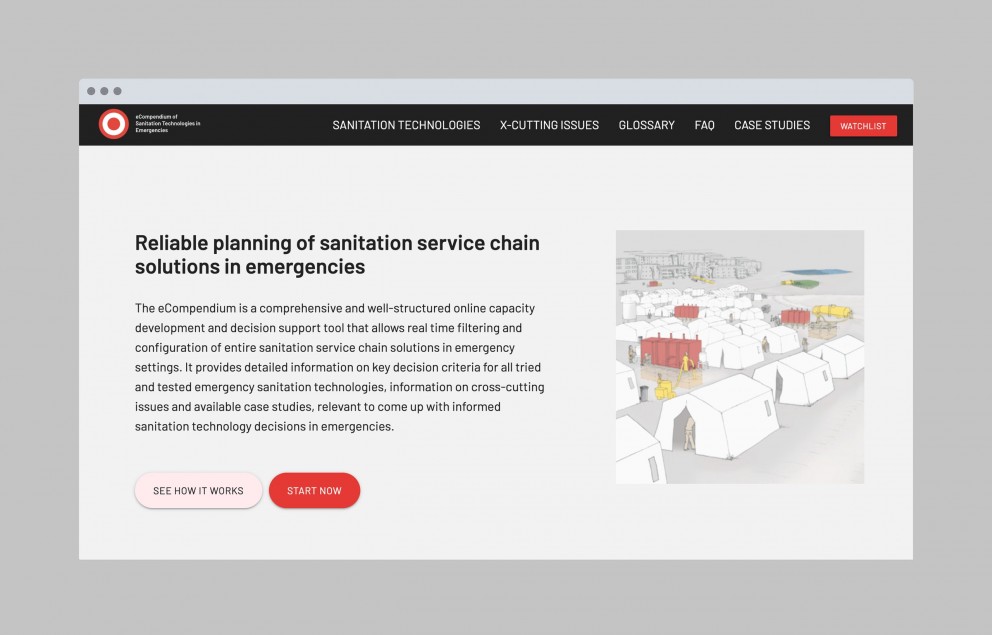 Together with many national and international humanitarian partners, GTO has been developing basic humanitarian WASH publications for several years, such as the "Compendium of Sanitation Technologies in Emergencies" or the "Compendium of Water Supply Technologies in Emergencies".
In order to make the information contained in the publications digitally accessible, the "Emergency WASH Knowledge Portal" was developed as an interactive knowledge platform and planning aid. The knowledge from the compendia is bundled and systematically prepared on a user-friendly platform. Filter functions enable a quick and targeted identification of possible technical water and sanitation solutions as well as accompanying hygiene promotion interventions, tailored to the respective local context. The platform is currently available entirely in English. Parts of the compendium series are also available on the platform in French, Arabic and Ukrainian.
The Emergency WASH Knowledge Portal and the underlying compendium publication series on water, sanitation and hygiene in emergency response is the result of an extraordinary joint effort of partners of the Global WASH Cluster with contributions and thematic inputs from a wide range of international experts and organisations from the WASH sector. The development of the publication and online platform is an initiative of German WASH Network, Eawag, the University of Applied Sciences Northwestern Switzerland, the Global WASH Cluster and the Sustainable Sanitation Alliance (SuSanA), made possible by financial support from the German Federal Foreign Office and the Swiss Agency for Development and Cooperation (SDC). The project is coordinated by GTO.
Check out the eCompendium now!
Sanitation Technologies

X-Cutting Issues

Filter Options
Reliable planning of sanitation service chain solutions in emergencies