eCompendium Online Platform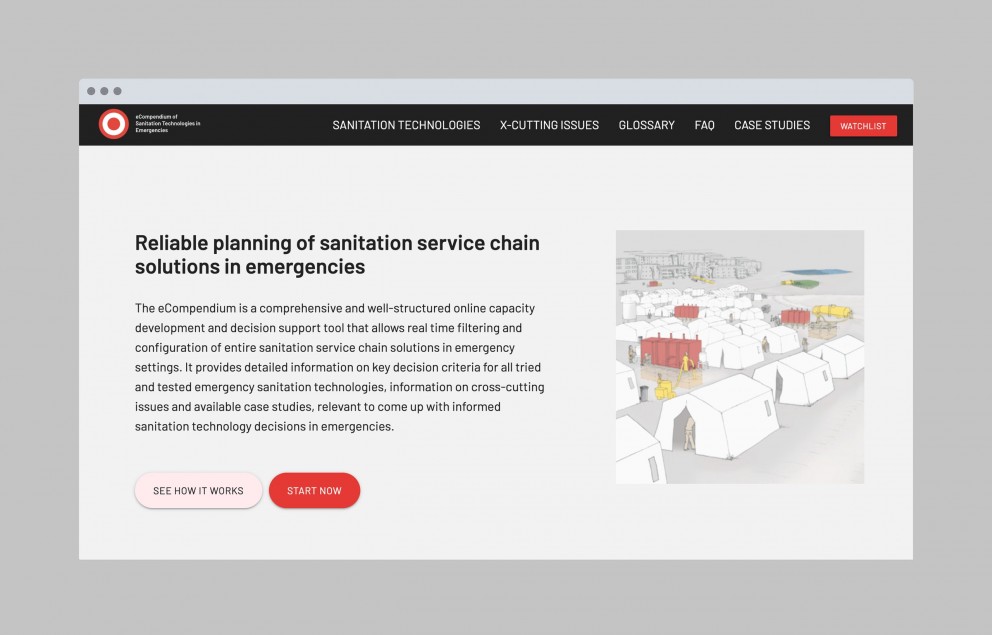 Together with EAWAG, the water research institute of ETH Zurich, the GTO developed an online platform to make the "Compendium for Sanitation Technologies in Emergencies" digitally available. The compendium is hereby extended by an interactive planning tool, which enables context-related search and real-time configuration of sanitary systems. The "eCompendium" covers the entire spectrum of proven sanitation technologies – from the user interface and conveyance to the disposal or recycling of faeces – and provides precise information on the most important decision criteria for each technology. It facilitates the identification of technology combinations for complete sanitation systems and provides an overview of relevant cross-cutting issues. An extensive glossary helps to mainstream a common language in the sector.
The platform is available in English and French. Soon there will also be an Arabic version.
The "Compendium of Sanitation Technologies in Emergencies" is an extraordinary joint effort of partners of the Global WASH Cluster with contributions and thematic inputs from a variety of international experts and organisations from the WASH sector. The development of the publication and the online platform under the auspices of the GTO is an initiative of the German WASH Network, Eawag, the Global WASH Cluster and the Sustainable Sanitation Alliance (SuSanA), made possible by financial support of the German Federal Foreign Office and the Swiss Agency for Development and Cooperation (SDC).
The platform is available here.
Sanitation Technologies

X-Cutting Issues

Filter Options
Reliable planning of sanitation service chain solutions in emergencies