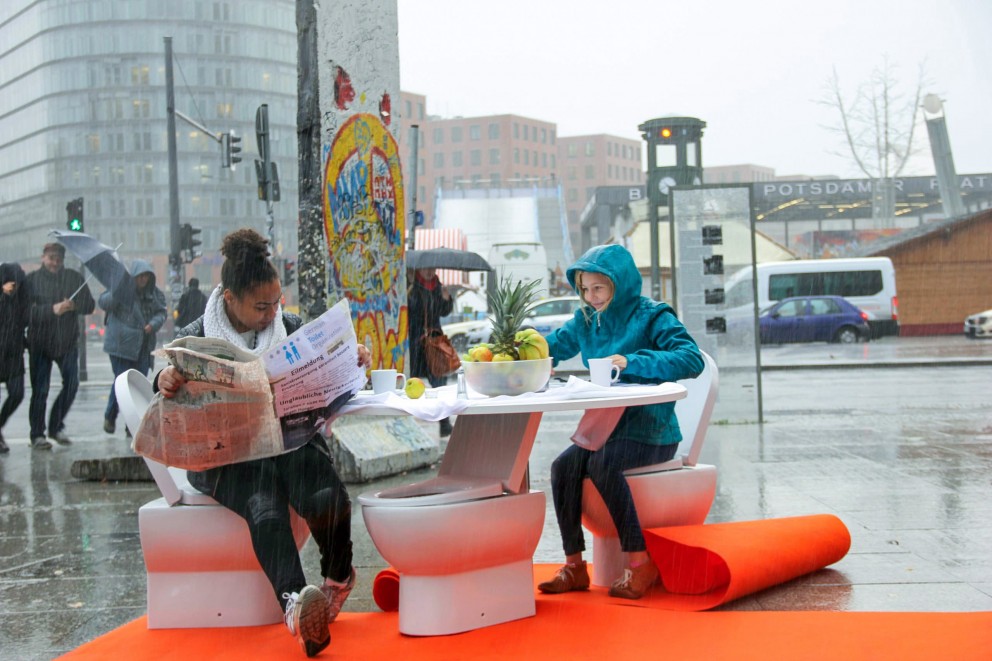 What does handwashing have to do with malnutrition? What is the significance of the first 1000 days in a human being's life? Why is diarrhoea so dangerous?
Poor sanitation and hygiene is a central cause of malnutrition. The link between WASH and nutrition is therefore a strategic focus of the WASH Network, which is strongly supported by the GTO.
The Bonn WASH Nutrition Forum 2015 - a milestone
As part of the WASH network, German Toilet Organization (GTO) has been conceiving and organizing events on this topic since 2011. The highlight was the Bonn WASH Nutrition Forum 2015, the first international conference of its kind with over 100 participants from 23 countries. WASH and Nutrition experts were equally represented and discussed commonalities and differences at different levels for the first time. Mutual understanding is the cornerstone for identifying synergies and making better use of them.
The event was the starting point for a large number of cooperations: Subsequently, the leaders of the global multi-stakeholder platforms Sanitation and Water for All Partnership (SWA) and Scaling up Nutrition Movement (SUN) came together at the Stockholm World Water Week, resulting in a formal cooperation between the two platforms. The aim of this is 1) to promote joint advocacy, 2) to anchor the interface of WASH Nutrition politically at national level, and 3) to jointly tackle the practical exchange of experience and further research on the topic.
2+6=17 Yes, it makes sense!
Among other WASH-Nutrition events, the German WASH Network developed the publication "2+6=17 Linking WASH and Nutrition - A Blueprint for Living SDG 17" as part of the special initiative "A World without Hunger" (SEWOH) of the German Federal Ministry for Economic Cooperation and Development (BMZ). The publication is intended to support actors in finding a way to link WASH and Nutrition under consideration of the Sustainable Development Goals (SDGs). It builds understanding between experts of the two thematic areas and the various interest groups and provides examples and recommendations for larger impact, improved sustainability and cost efficiency. With the participation of numerous national and international partners, GTO played a leading role in its development process.
The 2 in the title stands for SDG 2 ("Zero Hunger"), the 6 refers to SDG 6 ("Clean Water and Sanitation") and SDG 17 stand for "Partnerships for the Goals", an overarching goal. Will the calculation add up by the year 2030?
children under the age of 5 suffer from malnutrition

children under the age of 5 annually die from diarrhoeal diseases